Concepts NREC MAX-PAC 8.x | 123.6 mb
Concepts NREC, the world's leading turbomachinery software, design, development, testing and manufacturing company, is proud to announce the release of version 8.7 of its Agile Engineering Design System.
The Agile Engineering Design System is a single environment of software modules for designing and manufacturing turbomachinery. The system seamlessly transfers data between modules and enables our customers to optimize their designs, based on the impact to cost, machining time, and performance.
The 8.7 release features new capabilities in every module, with a focus on making the software easier to use, faster, and more accurate. This release also expands the types of components that can be designed, optimized and manufactured. One of the new capabilities in 8.7 is the ability to design and model labyrinth seals in secondary flow passages as well as radial turbine twin scrolls. Another feature is the automated meshing and CFD solutions, in our FINE/Agile product, have been extended to include virtually all geometry that AxCent can generate. Our TurboOPT II link has been enhanced, allowing for the optimization of mechanical geometry, casing treatments, volutes and cooled turbine geometry. Version 8.7 also includes the first functionality to design and analyze impellers with hollow geometry, made possible by additive manufacturing.
Version 8.7 of our CAM software, MAX-PAC, closes the gap between specialized CAM for turbomachinery and the capabilities of a general-purpose CAM package. Many general CAD features to create and analyze geometry inside of MAX-PAC have been added. Other upgrades include tool import from CAD models, new barrel cutter finishing options, and more flexible finishing strategies for impellers and blisks.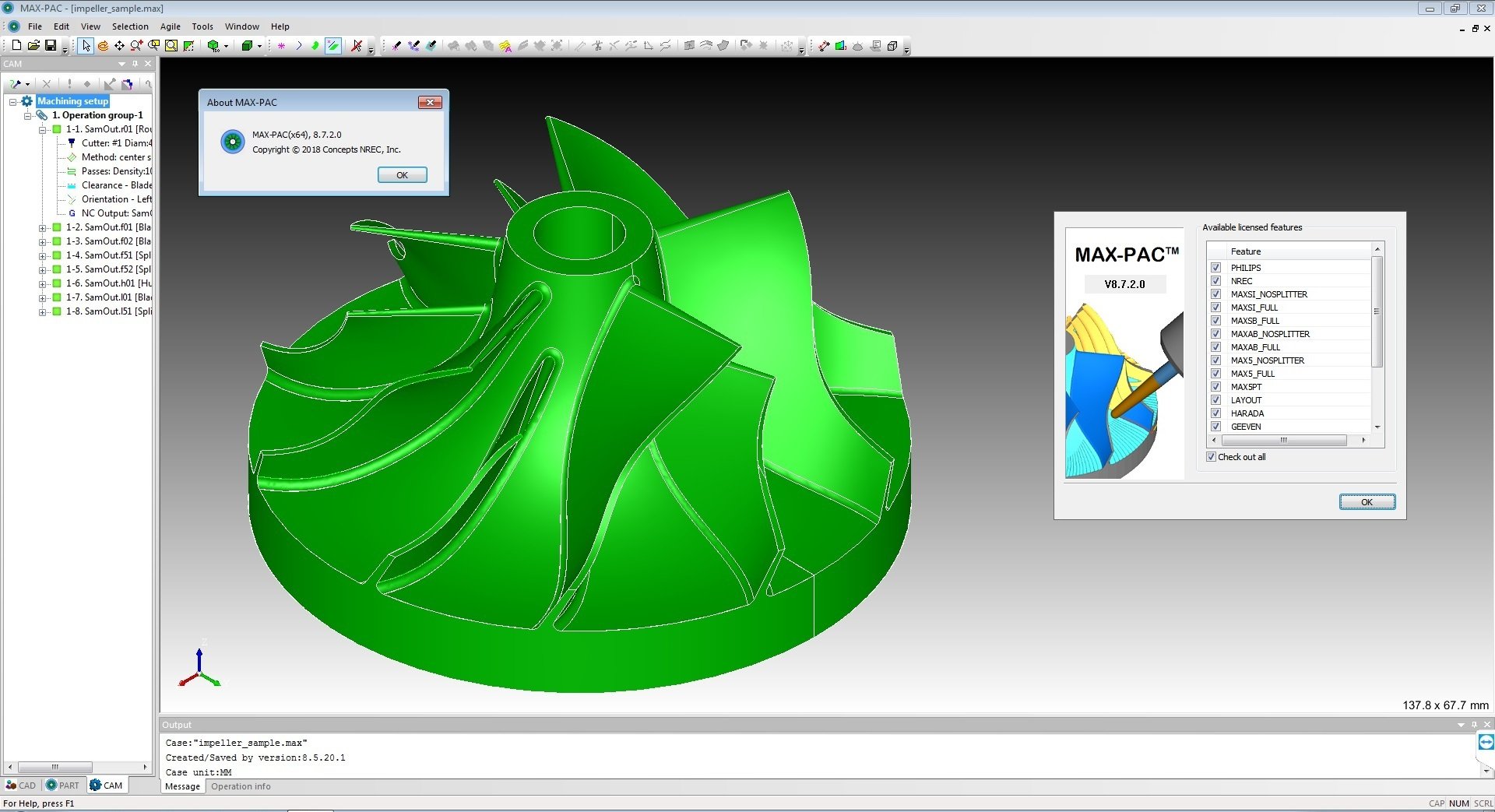 About Concepts NREC MAX-PAC. Concepts NREC's MAX-PAC family of CAM software provides optimal cutter-path solutions for turbomachinery components by offering users several cutting strategies that can reduce engineering costs as well as production costs. MAX-PAC is available in any combination of modules to suit part geometry requirements for flank milling of ruled-surface blading, point milling of arbitrary-surface blading, point milling of integrally shrouded impellers, or milling of single blades.
MAX-PAC has long been recognized as the best CAM software for 5-axis milling of turbomachinery impellers, blisks, and rotors, and enjoys a strong worldwide reputation with manufacturers, job shops, and 5-axis machine-tool companies.
Expertise built into these specialized tools incorporates methodologies protected by three separate patents. Compared to other CAM tools, MAX-PAC addresses only turbomachinery, and as a result, it is faster to learn, easier to use, and requires less programming and machining time. However, its most important attribute is that MAX-PAC produces higher quality parts than its competition.
About Concepts NREC. Concepts NREC, Inc. designs and develops turbomachinery in the United States. The company offers air, process, and axial compressors; gas turbines, steam turbines, expanders, hydraulic turbines, and hydroelectric turbines; turbochargers; single and multistage, in-line, axial-flow, and mixed-flow pumps; fans, blowers, and vacuum systems; and propulsors and propellers. It also provides in-house solutions for gas turbines, compressors, pumps, steam turbines, fans, blowers, and turbochargers.
The company was formerly known as Concepts ETI, Inc. and changed its name to Concepts NREC, Inc. in June 2000. The company was founded in 1980 and is based in White River Junction, Vermont with an additional office in Shanghai, China. It has facilities in Wilder, Vermont; and Chelmsford, Massachusetts. The company has representatives in the United States, Africa, Asia, Europe, and the Middle East.
Product: Concepts NREC MAX-PAC
Version: 8.x
Supported Architectures: x64
Website Home Page : http://www.conceptsnrec.com
Language: english
System Requirements: PC
Supported Operating Systems: Windows 7even or newer
Size: 123.6 mb
---
Password/解压密码-0daydown
Download rapidgator
https://rg.to/file/094641a708d8e791c2110b9d93f8b1a1/Concepts.NREC.MAX-PAC.v8.8.6.0.Win64-SSQ.rar.html
Download nitroflare
https://nitroflare.com/view/2741B0996026E8E/Concepts.NREC.MAX-PAC.v8.8.6.0.Win64-SSQ.rar