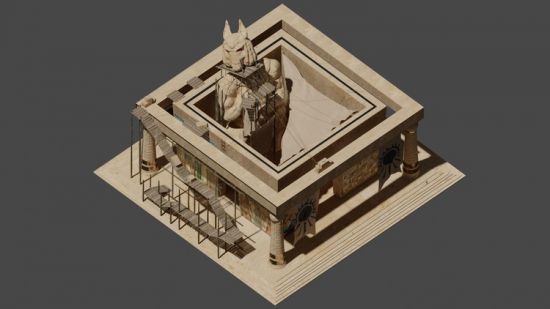 MP4 | Video: h264, 1280×720 | Audio: AAC, 44.1 KHz, 2 Ch
Genre: eLearning | Language: English + srt | Duration: 7 lectures (3h 55m) | Size: 3.48 GB
Learn how to make 3D assets for 2D games
---
What you'll learn:
By the end of the course you will know your way through Blender and how to successfully create 3D models for 2D/3D games.
If you're new to Blender or you've never used it before, don't worry! We will learn things from scratch (but fast paced).
You will learn how to texture your models.
You will learn how to render your models and have them ready for your game!
This course is recommended for beginners or enthusiasts who want to create games such as Age Of Empires, Diablo 2 or Sacred Underworld.
Requirements
You will need: a decent PC that can run Blender (you don't need a graphics card!) & internet connection.
Description
Why would you take this course? Well, unlike any other 3D course out there, in this course we will take a look at games such as Age of Empires, Sacred Underworld, etc. After analyzing their models, we will focus on creating our own (character creation is excluded) with the idea in mind that we want a particular type of game. In other words, we will be making 3D/2D structures for modern videogames.
In this course you will learn how to use Blender 2.91, a powerful, open source creation software.
You will be learning:
– 3D Modelling for 2D games such as Age of Empires, Sacred Underworld, Diablo 2, Inquisitor, Pillars of Eternity, etc.
– Texturing
– Rendering
We will be exploring the basics of 3D modelling, after which we will start by creating our first model.
Once we have our model ready, we will texture it and finally, render it.
By the end of the course you will have a basic understanding of how to model 3D assests in Blender, how to add textures to the models you've created, what rendering is & how to use it.
(Our 3D models can easily be applied to 2D graphics through a rendering process. So here you will learn 3D to 2D!)
Who this course is for
Beginners in Blender 2.91, 3D Modelling Enthusiasts or Students who wish to create 3D assets for a videogame.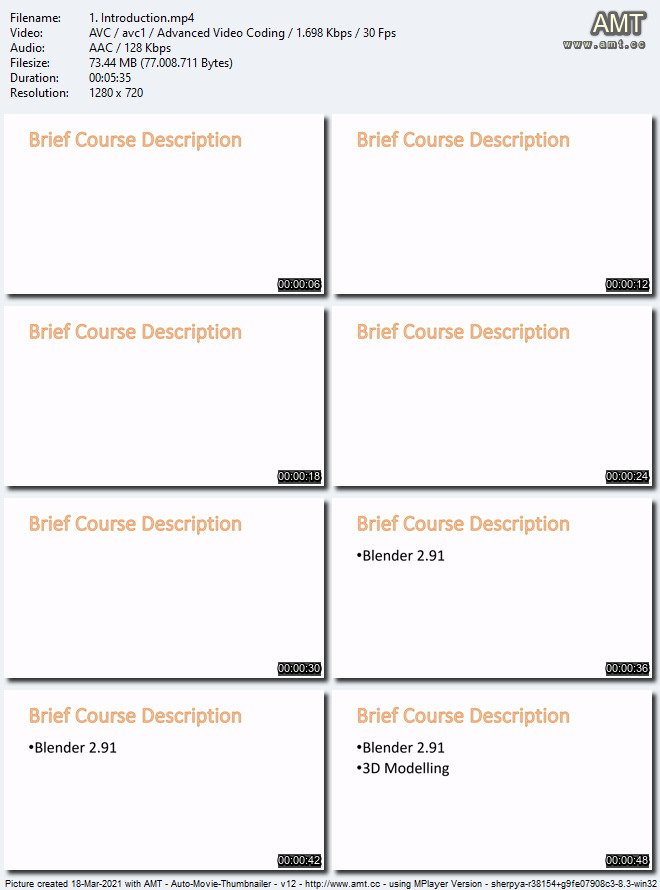 Password/解压密码0daydown
Download rapidgator
https://rg.to/file/70663d061bbf55cac4cea0c2e33e7bc3/3D_Modelling,_Texturing_&_Rendering_with_Blender_2.91.part1.rar.html
https://rg.to/file/024bdf186119d2f95ac9782e05713989/3D_Modelling,_Texturing_&_Rendering_with_Blender_2.91.part2.rar.html
https://rg.to/file/1af9443364cfbf5be56f1cb8da3d5178/3D_Modelling,_Texturing_&_Rendering_with_Blender_2.91.part3.rar.html
https://rg.to/file/064ee3daded1a2cbdbd24e78d4be92c9/3D_Modelling,_Texturing_&_Rendering_with_Blender_2.91.part4.rar.html
https://rg.to/file/435ada7a25c8816d17eeb3a7b379a595/3D_Modelling,_Texturing_&_Rendering_with_Blender_2.91.part5.rar.html
https://rg.to/file/d0a7ccd7d1384dd8d6e3531433902be8/3D_Modelling,_Texturing_&_Rendering_with_Blender_2.91.part6.rar.html
Download nitroflare
https://nitroflare.com/view/95F6B987C91EEBA/3D_Modelling%2C_Texturing_%26_Rendering_with_Blender_2.91.part1.rar
https://nitroflare.com/view/2A8379AE9BFD2C2/3D_Modelling%2C_Texturing_%26_Rendering_with_Blender_2.91.part2.rar
https://nitroflare.com/view/7136D421A1349F3/3D_Modelling%2C_Texturing_%26_Rendering_with_Blender_2.91.part3.rar
https://nitroflare.com/view/F0DB001FC3F2F78/3D_Modelling%2C_Texturing_%26_Rendering_with_Blender_2.91.part4.rar
https://nitroflare.com/view/BD6607E629DA5F0/3D_Modelling%2C_Texturing_%26_Rendering_with_Blender_2.91.part5.rar
https://nitroflare.com/view/910A598FACA4FCF/3D_Modelling%2C_Texturing_%26_Rendering_with_Blender_2.91.part6.rar
转载请注明:0daytown » 3D Modelling, Texturing & Rendering with Blender 2.91