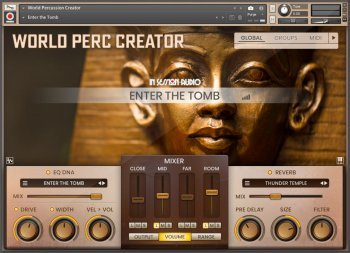 Team DECiBEL | 08 Apr 2021 | 2.81GB
Create, control & generate your ethnic drum sound.
Ethnic, hand played and regional drums are often used to conjure the sound of distant lands, age-old civilizations, exotic wildlife and human adventure. World Percussion Creator is a virtual instrument sample library designed to convey this natural sound in a new, larger and more flexible way.
Where most libraries present limited variations, World Percussion Creator allows you to create, control and generate multiple solo and ensemble groups of your own from a selection of 36 drums and 36 small percussion instruments – all playable from a single interface.
Like the other Creator libraries, World Percussion Creator contains a strong collection of specialty booms, slams, deep impacts and "ethno atmospheres", all designed to transform basic rhythms into polished drum tracks with greater emotional impact.
With a purpose-built engine, hundreds of MIDI files, and an innovative yet simple-to-use feature set, World Percussion Creator is a match for anyone producing world music drum tracks.
SPECIFICATIONS
INSTRUMENTS: 36 drums (many feature multiple articulations) and dozens of other small hand percussion sample sets and sound designed elements. Total sample count: 13700
VARIATION: All drum head hits feature seven variations at seven velocities; aka: 7×7 round-robin.
MIDI: 20 "suites" that include intros, core parts, fills and endings. High and Low mix variations are also supplied.
All parts can be auditioned from the interface and dragged-and-dropped directly to a DAW for user customization.

REQUIREMENTS
SOFTWARE: World Percussion Creator runs in Kontakt or the free Kontakt Player 5.7.1 or higher (requires a minimum of Windows 7 or Mac OS 10.11).
COMPUTER: Because World Percussion Creator is capable of using many samples at once, we recommend users have a current and powerful computer for the best experience.
转载请注明:0daytown » In Session Audio World Percussion Creator KONTAKT-DECiBEL