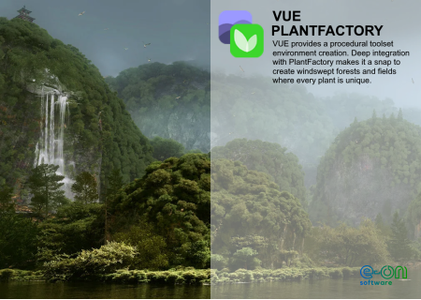 一款功能超强且实用的3D景观设计和数字自然环境制作软件,拥有专业的渲染引擎可以帮助您在各种质量设计中进行高度渲染,还能够让您从快速缩略图到真实的静止图像和动画效果,甚至在多层PSD的传输出完美的合成场景。
---
VUE and PlantFactory 2023 R0 macOs | 4.4 Gb
Languages Supported: English, Deutsch, Français
The E-on development team, a business Bentley Systems, is pleased to announce the availability of VUE and PlantFactory 2023 R0 (8005859). This release adds consistent material reflection handling for standard materials across all atmosphere models and render engines and improves the core workflow experience of the Function Editor, the heart of many of VUE's advanced setups.
What's new in VUE 2023 – Date: January 11, 2023
Main features in Release 2023:
– Feature parity between Creator and Professional
– Complete Function Editor overhaul
– GGX reflection model for highlights
– Redshift conversion of VUE scenes in 3DS Max
This release adds additional plugin compatibility for the following host application versions and render engines (bold items are new):
– 3D Studio Max 2016 to 2023
– Maya 2015 to 2023
– Cinema4D R20 to 2023
– Redshift material conversion (starting from 3.0.46) in Maya 2020 and above, Cinema 4D R23 and above and 3D Studio Max 2022 and above
– Support for V-Ray 6 in 3ds Max, Maya and Cinema 4D
VUE is the only environment package on the market that includes everything you need for creating beautiful CG environments. From skies and volumetric clouds to terrains, large-scale EcoSystems, wind-swept vegetation, open water bodies, roads and rocks: everything is right there for you to use out of the box. VUE ships with a hefty plant library, comprised of over 170 plant species, from HD vegetation to low resolution. The VUE vegetation technology ensures that no two plants you add to your scene will be identical, freeing you from hardcore vegetation modeling tasks, and adding more subtlety to your scenes. The Plant Editor lets you easily customize any of the plants included and allows you to create your own, unique plant species. VUE will also automatically animate plants for you so that they gently sway in the breeze, or twist and bend in strong winds. VUE is natively compatible with the fully procedural PlantFactory file format, to produce high-quality hero trees as well as distant vegetation. VUE can animate all of the exposed plant properties (such as Health, Seasonality or any other published plant parameter).
E-on software is the leading developer of solutions for the creation, animation, rendering and integration of natural 3D environments. We were founded in 1997 on the premise that powerful graphics tools should never get in the way of the designer's creativity. After being acquired by Bentley Systems in 2015, we've been able to invest more resources into research and development to ensure we remain at the forefront of the industry. Our products are used worldwide by the film, television, architecture, game, science, educational and entertainment industries.
Product: VUE and PlantFactory
Version: 2023 R0 (8005859) *
Supported Architectures: x64
Website Home Page : https://info.e-onsoftware.com/
Languages Supported: multilanguage
System Requirements: macOs *
Size: 4.4 Gb
* included:
EON_VUE_ENTERPRISE_V2023_MACOSX64-XFORCE
EON_VUE_ENTERPRISE_V2023_PLUGIN_ADDON_WIN64_MACOSX64-XFORCE
EON_PLANTFACTORY_ENTERPRISE_V2023_MACOSX64-XFORCE
EON_PLANTCATALOG_V2023_MACOSX64-XFORCE
EON_PLANTCATALOG_PLUGIN_ADDON_V2023_WIN64_MACOSX64-XFORCE
---
Password/解压密码www.tbtos.com