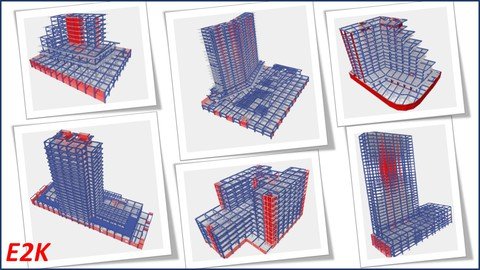 Published 1/2023
MP4 | Video: h264, 1280×720 | Audio: AAC, 44.1 KHz
Language: English | Size: 1.52 GB | Duration: 3h 34m
ETABS Training Prepared by Designers
What you'll learn
You will be able to create a structural analysis model from scratch in ETABS.
You will learn the most used features and practical solutions in ETABS interface.
You will be able to define earthquake and wind load by using various methods according to different regulations.
You will learn how to access the necessary resources about ETABS.
You will learn the details of the calculations made in ETABS.
You will be able to evaluate and visualize the analysis results practically.
You will be able to conduct a design according to local or international regulations.
Requirements
Basic Structural Engineering knowledge
Description
We recommend that you review our preview video that we prepared before registering. In this video, you can learn about our content.ETABS, Computers and Structures, Inc. (CSI) is one of the most used structural analysis and design programs in the world.By using the ETABS program, we can model our structures with different geometries, analyze them using the finite element method, and design with the help of the regulations defined in the program. We can examine the explanations and details of all calculation and design methods, together with their references, from within the program. One of the biggest advantages of using this program is that it has very detailed documents.Our ETABS training has been prepared by the E2K team, which has completed undergraduate and graduate education at METU and ITU, and has more than 10 years of experience in structural design and earthquake engineering.You can find more detailed information about our team at e2kengineering.Our team, which has designed according to different regulations in local and international projects, offers practical solutions for the problems you may encounter.When you complete our training, you will be able to design the building after creating a model from scratch and making the necessary analysis.You can find all the necessary information in our training so that you can design according to a local or international regulation without being bound by any regulation.For your questions, comments and suggestions, you can always reach us from our accounts or our website.Curriculum:IntroductionWhat You Will Learn?Introduction to ETABSCreating a New ModelMenu and ToolbarFileEditViewDefineDrawSelectAssignAnalyzeDisplayDesignOptions & Tools & HelpModelingGrid, Material, Section and Load DefinitionsAnalysis ResultsModal Analysis Results, Irregularity and Section CheckDesign of a BuildingColumn, Shear Wall, Beam, Slab and Foundation Design
Overview
Section 1: Introduction
Lecture 1 What You Will Learn?
Lecture 2 Introduction to ETABS
Lecture 3 Creating a New Model
Section 2: Menu and Toolbar
Lecture 4 File
Lecture 5 Edit
Lecture 6 View
Lecture 7 Define
Lecture 8 Draw
Lecture 9 Select
Lecture 10 Assign
Lecture 11 Analyze
Lecture 12 Display
Lecture 13 Design
Lecture 14 Options & Tools & Help
Section 3: Modeling
Lecture 15 Grid, Material, Section and Load Definitions
Section 4: Analysis Results
Lecture 16 Modal Analysis Results, Irregularity and Section Checks
Section 5: Design of a Building
Lecture 17 Column, Shear Wall, Beam, Slab and Foundation Design
Structural Engineering Students,Structural Design Engineers,Anyone Curious About Structural and Earthquake Engineering
---
Password/解压密码www.tbtos.com
转载请注明:0daytown » Etabs – Condensed Course From Zero To Expert