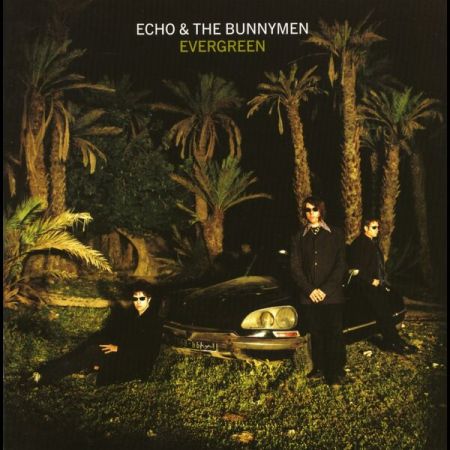 CD FLAC (tracks, cue, log) – 997 MB
2:29:53 | Alternative Rock, New Wave, Indie Rock | Label: London Records
Celebrating the 25th anniversary of Echo & The Bunnymen's second coming, London Records revisit the band's triumphant album Evergreen, set for release on the 18th November. Evergreen receives a vinyl pressing for the very first time. The anniversary release also features an expanded double CD version with an extensive array of studio b-sides, radio sessions, and unreleased live versions across 33 tracks. Originally released in 1997, Evergreen marked a critical and commercial renaissance for the band after more than half a decade's hiatus; an album that rightfully returned them to the Top 10 that sported three UK hits including the seminal 'Nothing Lasts Forever'.
CD1 – Original LP and B-Sides
01. Don't Let It Get You Down (3:52)
02. In My Time (3:26)
03. I Want To Be There (When You Come) (3:39)
04. Evergreen (4:11)
05. I'll Fly Tonight (4:24)
06. Nothing Lasts Forever (3:57)
07. Baseball Bill (4:05)
08. Altamont (3:53)
09. Just A Touch Away (5:09)
10. Empire State Halo (4:00)
11. Too Young To Kneel (3:41)
12. Forgiven (5:50)
13. Watchtower (4:26)
14. Polly (4:18)
15. Hurracaine (4:24)
16. Colour Me In (4:00)
17. Antelope (2:45)
18. Jonny (3:00)
CD2 – B-Sides, Unreleased Live & Session Tracks
01. I Want To Be There (When You Come) (Live at The Improv Theatre, 1999) (3:30)
02. Rescue (Live at The Improv Theatre, 1999) (3:53)
03. Lips Like Sugar (Live at The Improv Theatre, 1999) (4:43)
04. Bedbugs & Ballyhoo (Live at The Improv Theatre, 1999) (3:44)
05. Nothing Lasts Forever (Jo Whiley, BBC Radio 1 Session, 1997) (4:20)
06. The Killing Moon (Jo Whiley, BBC Radio 1 Session, 1997) (4:51)
07. Baseball Bill (BBC Radio 1, Live at The Kilburn National, 1997) (3:50)
08. Just A Touch Away (BBC Radio 1, Live at The Kilburn National, 1997) (5:09)
09. I'll Fly Tonight (BBC Radio 1, Live at The Kilburn National, 1997) (4:33)
10. Altamont (BBC Radio 1, Live at The Kilburn National, 1997) (3:40)
11. Lips Like Sugar (WHYT Radio, Detroit, Live Acoustic Version, 1997) (4:17)
12. I Want To Be There (When You Come) (WHYT Radio, Detroit, Live Acoustic Version, 1997) (3:37)
13. The Killing Moon (WHYT Radio, Detroit, Live Acoustic Version, 1997) (4:24)
14. Forgiven (Robert Elms BBC GLR Acoustic Session, 1997) (4:29)
15. Nothing Lasts Forever (BBC Radio 1 Live Lounge, 1999) (3:51)
CD3 – Peel Session 1997
01. Don't Let It Get You Down (3:34)
02. Villiers Terrace (3:05)
03. Altamont (3:46)
04. Rescue (3:47)
转载请注明:0daytown » Echo The Bunnymen – Evergreen (25th Anniversary Edition) (1997/2022)