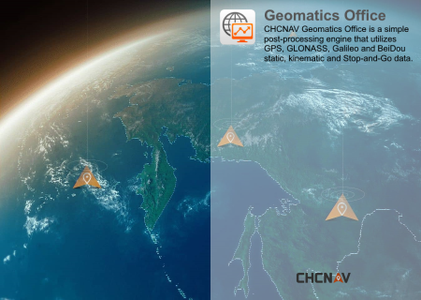 CHCNAV Geomatics Office 2022 (2.2.2.11) | 407.6 mb
The Team CHC Navigation (CHCNAV) is pleased to announce the availability of Geomatics Office (CGO) 2022 version 2.2 is a desktop application software for post-processing GNSS Data, which designed for both static and Post-processing Kinematic (PPK) applications.
CHCNAV Geomatics Office Software (CGO) is a powerful office software solution, designed for engineers as an integrated platform to make a link between field and office workflow from multiple sensors and generating rich deliverables. It supports 4 modules: GNSS, RTK, road and UAV, which allows for processing massive fieldwork data in one software.
Watch our CGO 2.0 Tutorial video to learn how to efficiently and accurately process a GNSS baseline.
Founded in 2003, CHC Navigation creates innovative GNSS navigation and positioning solutions to make customers' work more efficient. CHCNAV products and solutions cover multiple industries such as geospatial, construction, agriculture and marine. With a presence across the globe, distributors in more than 120 countries and more than 1,500 employees, CHC Navigation is today recognized as one of the fastest growing companies in geomatics technologies.
Product: CHCNAV Geomatics Office
Version: 2022 (2.2.2.11)
Supported Architectures: x64
Website Home Page : https://chcnav.com/
Languages Supported: english
System Requirements: Windows *
Size: 407.6 mb
---
Password/解压密码www.tbtos.com