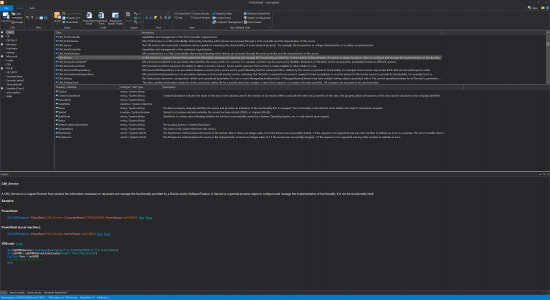 一款功能非常全面的数据库管理工具,同时也是下一代Windows数据库的管理工具,其中就包括了服务器和客户端计算机上大量的信息,你可以把它当做一个信息数据库;这样如果你是该系统或者局域网的管理者,即可借助本工具的代码自动生成能力,即可轻松创建代码程序,这样无疑是减轻了你数据信息查找的压力;此外,你还可以借助程序集成的控制台来测试你的查询语句,保证其可以高效运行,不会出错!并且,利用CIM Explorer进行数据搜索或者过滤时,你可以轻而易举的找到你需要的内容,尤其是里面的属性文档中动态PowerShell链接你只需要点击一次即可进行运行,无需其他任何的操作!
---
File Size: 121.3 MB
CIM Explorer is the next generation tool for exploring the vast universe of the Windows Management Instrumentation database. The CIM database represents an extensive repository of information about your servers and client machines, which, as a system or network administrator, you need to utilize every day. Use CIM Explorer's Windows PowerShell code generating abilities to create code for queries or even a GUI app with just a few clicks. The integrated PowerShell console for Windows PowerShell and PowerShell Core makes testing generated PowerShell statements instant and easy.
Remote CIM database structure information is cached locally, so there is no delay when navigating to the CIM class and property you need to access. The data is, of course, queried directly from the remote computer.
CIM Explorer's search and filter abilities will allow you to find what you need quickly and easily. Live PowerShell links in the documentation for both CIM classes and properties enable you to run a sample query with a single click.
Superior performance using cached data and multi-threaded code gets you results fast.
Explore and query local and remote machines.
A large variety of search options enables you to access the information you need faster and more precisely.
Filters allow you to reduce noise and focus only on relevant information.
Preset and custom queries let you not only examine the classes, properties and methods but also the underlying data.
View all documentation for any CIM objects.
Generates sample code for PowerShell and VBScript, including calls to both CIM methods.
Local cache allows you to browse remote machines even when not connected.