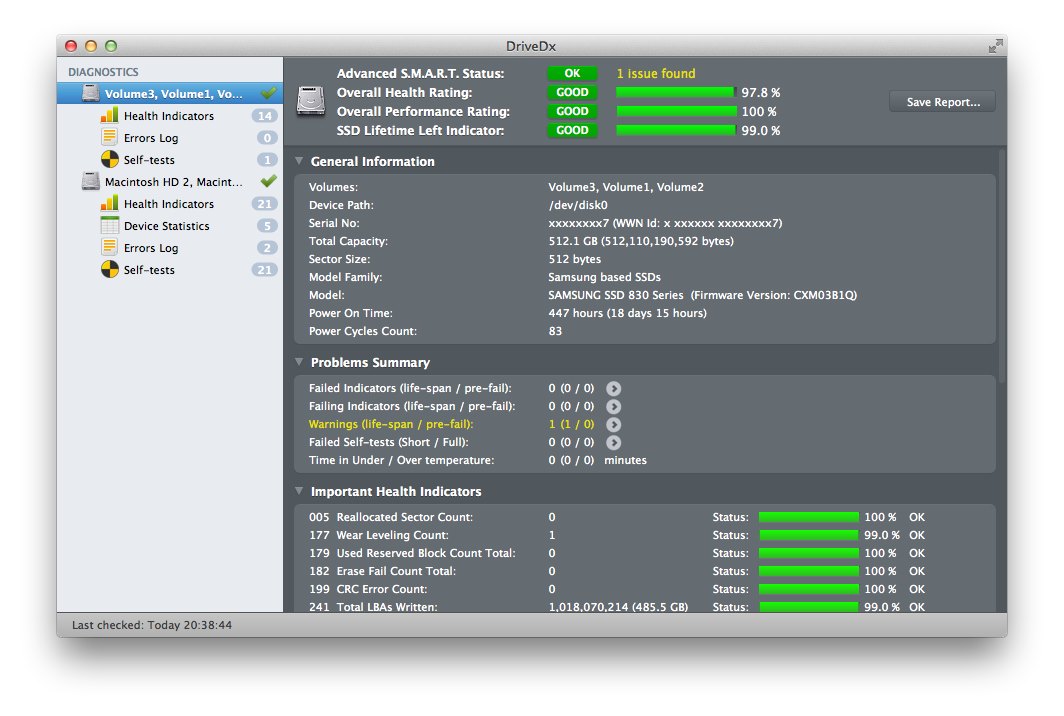 DriveDx for Mac是一款先进的驱动器运行状况诊断和监测工具。保存因为意想不到的驱动器故障和意外关机而丢失的数据,你无需担心你重要数据、音乐和照片等的丢失。
不像大多数驱动器监测管理,DriveDx for Mac是一款不监视驱动器的内置S.M.A.R.T.状态的先进驱动器运行状况诊断和监测工具,而且还分析了所有驱动器健康密切相关的指标, SSD或硬盘驱动器故障(像SSD磨损 /耐久性,坏扇区重新分配,离线坏道,未定扇形区, I / O错误以及更多)和要是出了差错立即警报用户。我们的驱动器运行状况诊断算法是基于最近在这一领域的研究。该应用程序提供访问所有足够的驱动器诊断数据,以满足任何系统管理员需求。 ]DriveDx for Mac是第一个实用性强的具备一个真正的用户喜爱的Mac风格界面。
当评估各种驱动器的状态时,可以使用不同的DriveDx for Mac(专业)的启发式算法,取决于驱动器上的模型,甚至它的固件版本。 HDD和SSD驱动器的状态使用不同的算法( DriveDx for Mac有两套独立的HDD和SSD驱动器的规则和算法) ,评估该软件的主要优势之一是因为许多硬盘驱动器的状态指标不适用或使SSD驱动器数据无法反映问题的情况下。
---
DriveDx 1.x | MacOSX | 22.5 MB
DriveDx is advanced drive-health diagnostic and monitoring utility. Save yourself from data loss and downtime that is associated with unexpected drive failures. Don't worry about losing your important data, music, and photographs.
Advanced Drive Health Diagnostics
Regular diagnostic tools simply check the built-in S.M.A.R.T. status of the drive, which provides the user with little information about the actual state of the physical drive. As opposed to such tools, DriveDx analyzes the current state of the drive using all the drive health indicators that are most likely to point to a potential drive issue (for instance, SSD wear out / write endurance, I/O errors, pending sectors, reallocated bad sectors, etc).
Drive Failing (Pre-fail) State Detection
Unlike most other tools, DriveDx detects not only "OK/Verified" and "Failed" drive health states, but also the "Failing (Pre-fail)" drive state. Thanks to that, you will detect problems much earlier than when using any other SMART monitoring utilities. This means that you have more chances to save your critical data before any data loss actually occurs.
Real-time Drive Health Monitoring
DriveDx runs in the background and periodically performs checks to determine the health of your SSD or HDD. When any issue or problem is found, it alerts you immediately. DriveDx acts as an "early warning system" for pending drive problems. As a result, you have more chances to save your critical data before any data loss actually occurs.
Early Warning System
DriveDx features a special multi-tier warning system that will inform the user about deviations from the normal state of drive attributes. It constantly monitors each S.M.A.R.T. attribute (and its change dynamics) and starts continuously warning the user as the drive degrades. On the initial stages of drive degradation, the user will receive notifications of the Warning type, then Failing (means that this drive parameter is in a pre-failure state) and only then Failed.
Drive Self-tests
DriveDx allows you to start and control diagnostic self-tests of SSD / HDD. The primary goal is to quickly identify if the drive is faulty. Usually self-tests consist of a collection of test routines like electrical and/or mechanical performance tests as well as the read performance test of the drive. Depending on self-test type it does read scan of a small area or the entire media.
Modern SSDs and HDDs Support
When evaluating the state of various drives, DriveDx can use different heuristic algorithms depending on the drive model and even its firmware version. One of the key advantages of the software is that the state of HDD and SSD drives is assessed using different algorithms, since many state indicators of HDD drives are not applicable or make no sense for SSD drives.
Automatic E-mail Reports
The user can get problem notifications and drive status reports to email. Reporting can be configured on the basis of various criteria. Thanks to this feature, the user does not need to have physical access to a specific computer all the time, which is especially useful for all kinds of server rooms, data centers, etc.
A modern, good-looking and user-friendly interface
DriveDx is one of the first drive diagnostic tools created in the true Mac style. All interface elements are clear and intuitive, so it will only take you a few minutes to learn the basics and start using the program. When a problem is identified, you will see a notification on the desktop and the status bar will show the status of your drives.
Drive Key Metrics Evaluation
DriveDx calculates various ratings of the current status of key drive characteristics (percent values):
– Drive health rating
– Drive performance rating
– SSD lifetime left indicator (in case of an SSD drive)
Drive Free Space Monitoring
Mac OS X and applications might fail due to an inability to allocate storage space. In addition, low disk space might cause disk fragmentation. To avoid data loss and to ensure the continuous functioning of your computer it is important to monitor the amount of available storage space on your drive. DriveDx can automatically monitor free disk space and will alert user immediately if user defined free space threshold exceeded.
Features:
– Support of modern SSDs and HDDs
– SSD lifetime left indicator
– Different routines for SSD and HDD health evaluation
– Real-time SSD & HDD health status monitoring
– User friendly and intuitive UI
– Pre-failure state early detection – DriveDx supports 4 drive health statuses: Ok, Warning, Failing (pre-failure) and Failed. (Most of drive utilities support only 2: "Ok" and "Failed")
– Drive failure prediction based on health indicators that are closely related to SSD or HDD failures
– Interactive hints and descriptions for all health indicators (SMART attributes)
– Multi-tier warning system that will inform the user about deviations from the normal state of drive attributes
– Diagnostic Knowledge Base online auto-updating
– Drive overall health rating
– Drive overall performance rating (if drive supports this subset of indicators)
– I/O errors monitoring
– Drive free space monitoring
– Support of drive short and full (extended) self-tests
– Save drive(s) health report to file
– Automatic drive health reports by email (automatic email reports)
– Human-readable drive health indicators (attributes) representation
– Drive temperature monitoring
– History-based drive health evaluation
– S.M.A.R.T. error log
– Growl notifications
– Retina displays support
What's New Version 1.4.0:
Added
– Support of Yosemite (OS X 10.10) dark UI mode
– More "flat" UI on Yosemite (OS X 10.10)
– Health indicator raw value extended info tips: last modified time, value delta, status, recommendations, etc. (Mouse hover or click on raw value.)
– Device Statistics tab for drives that support it
– User now can manually turn off automatic "health rating" monitoring of any S.M.A.R.T. attribute (health indicator), this will also excludes this S.M.A.R.T. attribute from drive's overall health/performance/lifetime rating evaluation. Just click on health indicator's "progress bar" for settings
– User now can manually turn off S.M.A.R.T. attribute (health indicator) current raw value alert
Improved
– More "aggressive"/strict diagnostic config for SSD flash write/erase errors and bad blocks
– Support of recent SSDs and HDDs
– Handling of "CRC Error Count" health indicator, DriveDx can automatically suppress previous warning if error count is not changing for a few days
– Improved diagnostic algorithms and heuristics
– Added many stability improvements
– Added many cosmetics tweaks and fixes
Fixed
Mail report settings bug when DriveDx treated some complex but valid email address as not valid
Requirements: Intel, OS X 10.6.8 or later
Home Page – http://binaryfruit.com/drivedx
---
Download rapidgator
https://rg.to/file/b3ef276c90514a270d5341a9b5a38183/DriveDx_1.11.0_%5Bvodka%5D_.zip.html
Download nitroflare
https://nitroflare.com/view/192B8064E963E59/DriveDx_1.11.0__vodka__.zip
Download 百度网盘
链接: https://pan.baidu.com/s/1b4vudkC9AOZVnLtBo5Xrmw?pwd=6tp7 提取码: 6tp7
---
Download rapidgator
https://rg.to/file/cce8ad2b5db69f4c4cb0c3bf76ce7738/DriveDx_1.8.2_.zip.html
Download nitroflare
http://nitroflare.com/view/40F9AB92A94DD6B/DriveDx_1.8.2_.zip
Download 城通网盘
https://u7940988.ctfile.com/fs/7940988-329596498
Download 百度云
链接: https://pan.baidu.com/s/1w_CryTp3YEMmj8JfGAIW7g 提取码: s4ug
---
Download rapidgator
https://rg.to/file/71646443e7b9464b1096f2b5fbf47da6/DriveDx_1.6.0_%5BTNT%5D.dmg.html
Download nitroflare
http://nitroflare.com/view/826856FF253D62C/DriveDx_1.6.0__TNT_.dmg
Download 城通网盘
https://u7940988.ctfile.com/fs/7940988-229456544
Download 百度云
链接: https://pan.baidu.com/s/1eSixyCE 密码: jzaq
转载请注明:0daytown » DriveDx 1.11.0 MacOSX